Frequently Asked Questions
What is the Annual Facility Fee on my cylinder and why do I have to pay it?
Facility fee refers to the cylinder/s as a "holding facility" (equipment to hold gas). The cylinders are an exchange service and are checked each time when returned for refilling at the terminal. The fee is a percentage of the cost to purchase, maintain and test each cylinder as required under the Gas Act, 2004. It also gives the appropriate response if there is a problem with the cylinder itself. Your Annual Facility Fee is non-refundable and is calculated according to the number and size of the cylinders provided at your property.
How can I tell if my cylinder is leaking?
You can spray the fittings on the top of a cylinder with soapy water when the line is pressurised. If your cylinder is leaking the gas will create bubbles in the soapy water. If this is the case you must turn off the gas supply and immediately contact KLM Gas.
What can I do if my BBQ cylinder is out of date (more than 10 years old)?
Government regulations require BBQ cylinders to be tested every 10 years. If your cylinder is in good condition, KLM Gas can have your cylinder re-tested so it can be used for another 10 years. When a cylinder is retested the valve is replaced, the valve comes with a 12 month warranty.
Why does LP Gas smell and is LP Gas toxic?
As a safety feature LP Gas has a strong, distinctive odour added to it for the detection of even minor leaks. All LP Gas is non-toxic, non-corrosive and clean burning. But if inhaled in sufficient volumes it can cause suffocation.
How do I light my hot water system?
These instructions are a general guide only; instructions on flipside of access cover of your hot water system should be used.
Remove the access cover
Turn the gas control knob to the off position
Wait 5 minutes to allow any build-up of gas to escape. If you can smell gas, stop. If you do not smell gas proceed to step 4.
Turn the knob to the pilot position.
Press the knob fully down and after 30 seconds, whilst keeping the knob pressed down, repeatedly press the igniter button until the pilot flame ignites.
WARNING: Keep your face and body clear of the combustion chamber opening while pressing the ignite button.
NOTE: It is not possible to press down the knob fully if the gas control has activated its safety shut-off feature. In this case, wait 60 seconds for the gas control to reset.
Keep the knob pressed down for at least 40 seconds or until you have a strong pilot flame.
Release the knob and check the pilot is still alight. The pilot can be checked by looking through the large opening below the gas control.
If the pilot has failed to light or has not remained alight, turn the gas control knob to the off position 1. Wait 5 minutes for any unburnt gas to disperse and then begin at step 4 again.
WARNING: Failure to wait 5 minutes may result in a fire or explosion.
When the pilot flame remains alight with the gas control knob released , turn the knob anticlockwise to the number setting, the higher the number the hotter the water – this will also depend on what brand of hot water system you have.
Replace access cover.
The driver left both my gas cylinders on when he did the delivery, why?
If your gas installation is equipped with an Automatic Changeover Regulator, our drivers will always leave the new cylinder turned on and reset your Automatic Changeover Regulator, as this is how this type of installation is intended to be used. Should you prefer to have a manually changeover system (one cylinder turned off) we are happy to come and quote to have your installation changed permanently to a Manual Regulator, please contact our friendly staff for details
Why can't I hook a 9kg cylinder on my installation?
If your gas installation is set up to accommodate 45kg LPG cylinder(s) it is not advisable to connect a smaller gas cylinder on the installation. This is not only non-compliant but can be a safety hazard too. LPG gas cylinders need to be placed on a stable, non-flammable surface and connected directly to the pigtails (connecting pipe) without causing stress on the pigtails.
You may also void the home insurance if the gas installation is not used correctly.
The driver left my cylinder off when he did the last delivery, why?
You may have had no gas left in your cylinder(s) when our driver did your delivery. The driver will leave the new gas cylinder turned off for safety reasons if nobody is home at the time of the delivery. Turn the new cylinder on at the top valve all the way until it stops.
Do I need to be home for my delivery?
No, as long as our drivers have clear access to the gas cylinders at your property, you do not need to be home. Our drivers take the utmost care to ensure gates are kept shut and animals are kept in the yard. However, in some cases it can be very hard to juggle a full cylinder on a trolley and keep a potential 'Escapee' inside, therefore it may be recommended that pets are contained away from your gas cylinder location. If you wish to pay cash please arrange with our friendly office staff where to leave the money safely.
What if I have gas on my cooktop but no hot water?
Refer to FAQ I had a hot shower yesterday and I know I have gas in my cylinder(s), so why do I have no hot water?
What time can I expect my delivery?
Our drivers leave the Depot at 7:30am Monday to Friday. Your delivery time depends on where you are located from the Depot and how many cylinders our drivers have to deliver. This can vary due to traffic and gas leaks found by the drivers too, therefore we ask that our drivers have access from 7:30am onwards and cannot give you a specific delivery time.
Should you however need the delivery at a certain time, we do offer a Special Time Delivery Service available at a small additional charge
How do I tell how much gas I have in my cylinder(s)?
Apart from weighing the gas cylinders there is no sure why to determine how much gas you have in the cylinder(s). There are currently no accurate devices to determine the gas levels either so be careful not to be sucked into buying devices advertised on the internet.
The best way to check is by using the boiling water test. Please be careful with doing this test to avoid burning with the boiling water
Boil up a jug of water
Pour the boiling water down the side of the cylinder in a strip from top to bottom
Wait at least a minute, taking caution not to burn yourself
Run your hand slowly from the top to bottom of the cylinder, if at some point the metal feels cool this can indicate the approximate level of gas if any.
The procedure may need to be repeated to get a better result
Note: LPG cylinders are not filled to the top of the cylinder, they must always have a space to allow for expansion of the LP gas in the cylinder
I had a hot shower yesterday and I know I have gas in my cylinder(s), so why do I have no hot water?
You may have to simply reset your hot water system. If you have a hot water system with a power cord, turn the power point off for about 30 seconds and turn it back on. Go to the closest hot water tap to the hot water system and whilst running the hot water tap listen for either a ticking or buzzing sound coming from the hot water system. It shouldn't take too long for hot water to start coming through if the hot water system is functioning correctly.
Should you have a Hydro hot water system (no power cord) turn the closest hot water tap to the hot water system on and listen if the hot water system is turning on (ticking or buzzing sound). If you have a freestanding hot water system (Storage), you may need to relight the pilot light (See inside panel of your hot water system for instructions).
I had a delivery today/yesterday so why do I have no hot water?
When you run out of gas completely and all your cylinders are empty the driver will leave the new gas cylinder turned off for safety reasons. If you have 2 cylinders and ordered 1 exchange cylinder, the driver will connect the new cylinder on the LHS, test for leaks and leave the cylinder off for your safety if nobody is home. Turn the valve of the cylinder all the way anti-clockwise until it stops (cylinder needs to be fully open for gas appliance to work correctly). If you have a gas cooktop, light all the burners on the cooktop until you have a nice strong, consistent flame. Once the flame is strong, turn off the cooktop and try your hot water.
Do you supply gas for Forklifts?
How do I switch over to the full cylinder?
Manual change-over Regulators
This is the most common system, where two or more cylinders are connected to a change-over valve and a pressure regulator. The regulator is normally mounted on the wall between the cylinders.When the cylinder in use empties:
Check that your internal appliances (cooktops and ovens etc ) are turned off.
Turn the change-over valve lever (Located on top of the regulator) 180º so it points to the reserve cylinder.
Turn the reserve cylinder valve on completely (anti-clockwise).
If required, relight gas appliances.
Contact KLM Gas to order a replacement cylinder.
Automatic change-over regulators
On this type of system the regulator is designed to switch to the reserve cylinder(s) automatically and both the cylinders are required to be left turned on when delivered. Note these regulators are only indicators NOT gauges.
Each brand of regulator has a clear plastic window which generally shows Green (sometime another colour) when both cylinders have gas in them. When one cylinder empties the colour in the window changes (generally RED). It's important not to touch the reset mechanism as this will be reset by KLM when the next cylinder is delivered and connected. You will need to monitor this window regularly to avoid running out of gas completely.
What is a Manual Changeover Regulator?
Your Manual Changeover Regulator should look like this: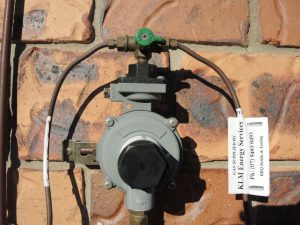 When you have ran out of gas in one cylinder you will need to manually turn the valve to face the cylinder you will be turning on. It's now time to contact KLM Gas for a replacement cylinder to ensure you don't unexpectedly run out of gas.
What is an Automatic Changeover Regulator?
Your Automatic Changeover Regulator should look like one of the images below.
Your regulator should be either fully green or red.  If the regulator is showing red this can mean that you have at least one empty cylinder and it's time to contact KLM Gas for a replacement cylinder.   Your regulator should be viewed as indicator. Therefore if your regulator is showing half green and half red (or in some cases white) this is not telling you that your cylinder in half full or half empty.  Wait until it is fully red before ordering a new cylinder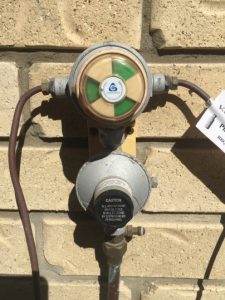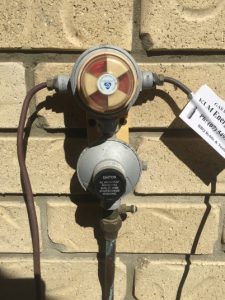 I know I have gas in my cylinder(s), so why is my cooking appliance not starting?
When gas supply is switched from the empty to the full cylinder it may take a short time for the gas to flow to the appliances. It may take some time for the appliances to light because the gas which is under low pressure needs to flow to each appliance. If there is gas cooking on site it's recommended lighting at least one burner and leaving it on for several minutes to get the gas flowing through the system.